Photo courtesy of Global Healing
A Long History Of Quality…
Founded in 1998 by Dr. Edward Group III, Global Healing has a longstanding reputation of offering the highest quality products for natural health consumers.
Their mission, "is to provide access to natural health information and products that revolutionize your journey to better health."
The truth is that in the natural health industry some companies make unfounded claims about their high quality products while others prove it.
Global Healing is one such company that continually proves it with their stringent manufacturing policies, high-cost certifications (such as certified USDA Organic and non-GMO) and painstaking measures to source the best and most ethically farmed ingredients.
These are just some of the beneficial characteristics you will find with any Global Healing product you choose.
When it comes to hemp extract, however, knowing that it is manufactured from a company like this with such stringent standards for quality becomes even more important.
Unfortunately many other companies selling hemp extracts have a wide range of variables when it comes to manufacturing practices, ingredients used and actual CBD levels in the product.
Key Features Of Global Healing's Organic Hemp Extract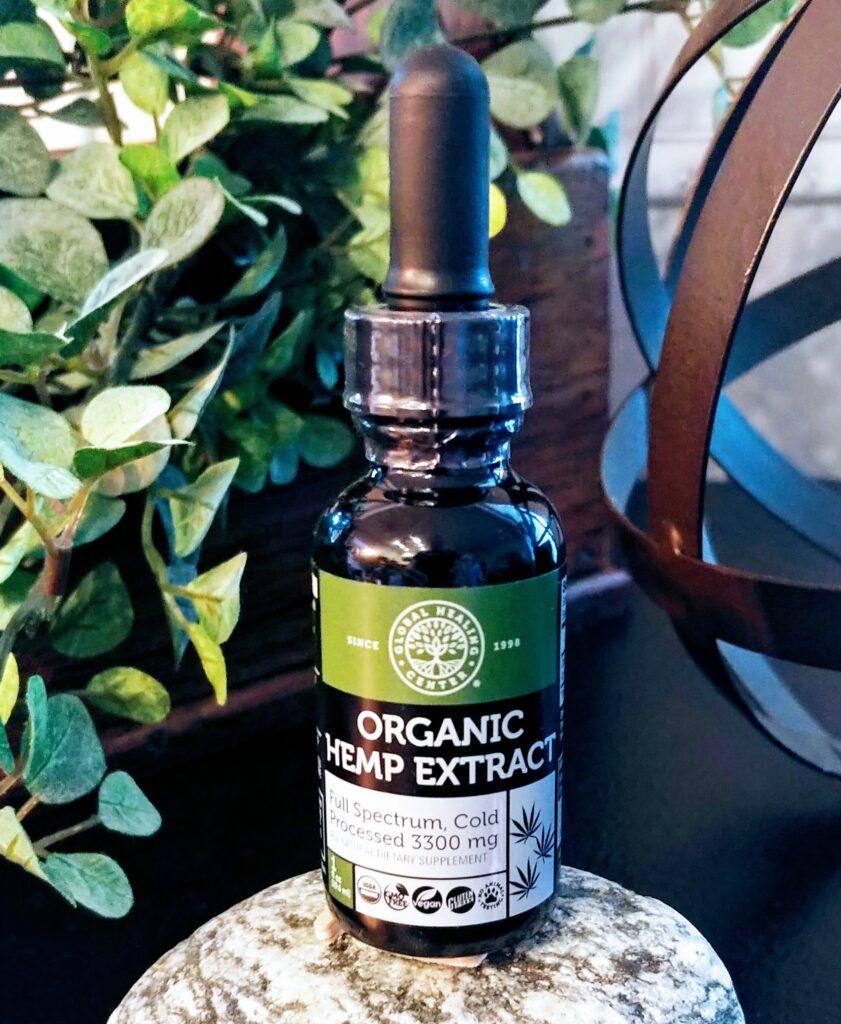 Utilizes only Colorado's best American-grown hemp.
Actual CBD content per serving is 65.3 mg which is higher than most other brands, making it exceptionally more potent.
Certified USDA Organic, GMO-free, gluten-free, soy-free and tested for safety and purity.
Uses organic MCT oil (fractionated coconut oil) as its carrier oil.
Contains no alcohol or other fillers.
Includes an energized trace mineral blend for better absorption.
One of very few hemp products that are whole-plant, cold-processed, and full-spectrum. Thus retaining all of its beneficial properties.
Retains these other important compounds: protein, chlorophyll, fiber, flavonoids, terpenes, and metabolites.
What About The THC Levels, Does Hemp Extract Make You 'High'?
As you may already know Tetrahydrocannabinol (THC) is the psychoactive component found in very small amounts of industrial hemp plants. Hemp plants that are grown and contain less than 0.3% THC are used for making hemp extracts.
This small amount of THC that occurs naturally in hemp was made federally legal by the Hemp Farming Act of 2018. This trace amount of THC is determined to have no psychoactive properties.
Furthermore, the high levels of cannabidiol (CBD) found in hemp have been clinically proven to actually reduce the psychoactive effects of its trace amounts of THC. However, this trace amount of THC is still important in the hemp extract to help create what is called the 'entourage effect'.
The 'entourage effect' is simply another way to describe it as having a synergistic potency that has more beneficial effects than hemp extract with absolutely no THC. (source)
Global Healing's Hemp extract contains .27% THC which is under the federal legal limit, has no psychoactive effects, yet doesn't strip away the oils potency and synergistic qualities.
Special Note: Local laws may supersede federal laws in certain geographic areas regarding THC levels and CBD/Hemp oil.
Video: THC and The 'Entourage Effect' Explained
---
In Conclusion: Here's What You Should Know Before You Buy Just Any Hemp Extract Out There…
Where is the hemp sourced? Global Healing's Answer: 100% Organic Colorado American.
Is it full spectrum? Global Healing's Answer: Yes.
What is the actual amount of CBD? Global Healing's Answer: 65.3 mg per serving.
Is it a whole plant extract? Global Healing's Answer: Yes.
What is the extraction process? Global Healing's Answer: Cold-processed with no toxic solvents.
How much THC does it contain? Global Healing's Answer: .27% which is below the federal legal limit yet maintains its synergistic qualities.
Does it contain any unwanted additives such as alcohol or fillers? Global Healing's Answer: No.

Latest posts by Chris Austin
(see all)